Much to everyone's relief, the housing market made a stunning recovery in 2020, and is positioned for an even stronger 2021. Interest rates are at record lows, driving the skyrocketing homebuyer demand we've been seeing, and sellers are poised to win big!
With high buyer traffic and low inventory, sellers are at a strong advantage. If you want to sell your home on optimal terms, now is the time. In fact, nationwide, existing homes are selling for almost 15% more than they were a year ago, and only sitting on the market for an average of 21 days!
If that's not enough, the National Association of Realtors recently reported that the number of homes currently for sale sits at about 1.28 million, which is down 22% from a year ago. This is an all-time inventory low, representing just over 2 months worth of supply at the current breakneck sales pace. In a normal market, we like to see 6 months of inventory available at any given time.
But nothing lasts forever, and the high-demand-low-supply scenario behind today's market could be changing soon. Many sellers wait to put their home on the market until the spring, which has historically been considered one of the best times to sell a home. But the old adage rings true, and just like "April showers bring May flowers," the spring listing rush can bring a flooded housing market.
If you wait to list your home until the spring, buyers will have more choices, you'll have less leverage as a seller, and it may be more difficult for your home to catch their eye. Don't wait to take advantage of the benefits the market is currently offering sellers.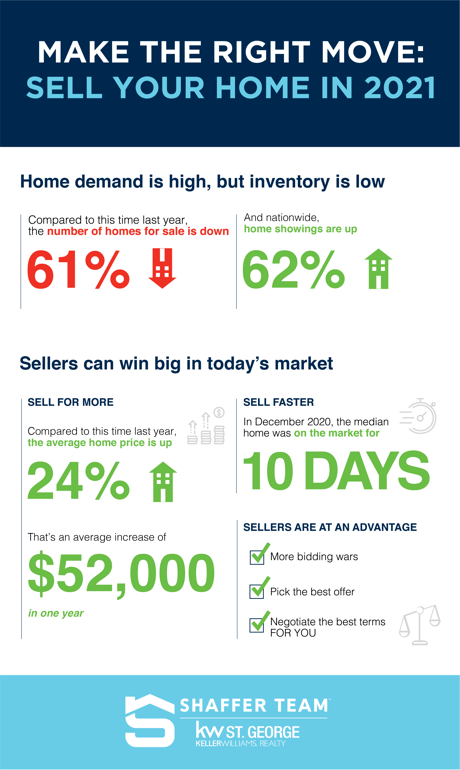 If you're thinking of selling your home in 2021, now is the time. We can help you get high value offers on your home today. Not quite ready to list? No problem! We're happy to answer any questions you may have in the meantime. Call us at 435-200-1991 to get started.